"Transparency defines this house and those who inhabit." -2009-
Making works of interior architecture and furniture design of a living house in Barcelona. Lola Lago restored this house making the beautiful garden was practically inside the house. With spectacular designs like the "bookcase tree" she wants to explain that books can be stored not only on walls but also hung from the ceilings; or with shower built in the garden, she wanted to show that its inhabitants have nothing to hide.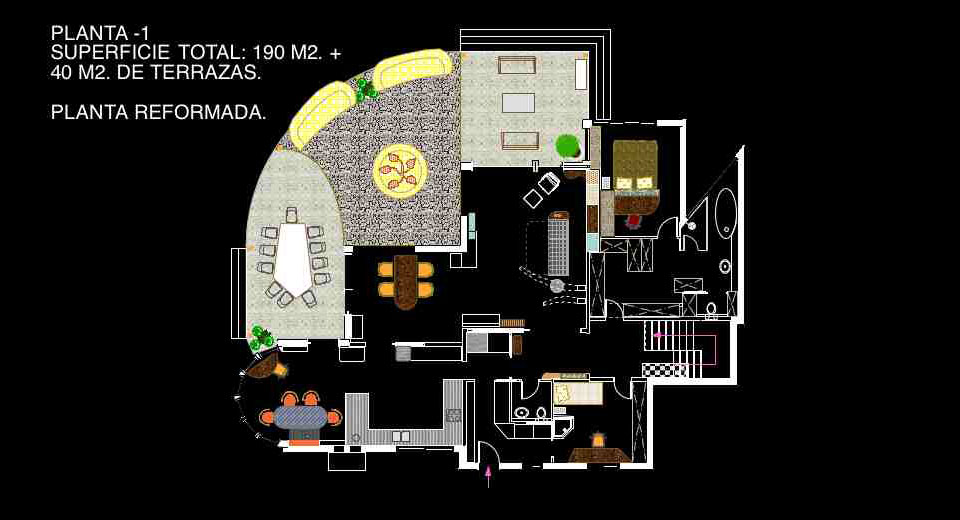 Making full construction work of a family housing in Barcelona.

Radical change in this house originally built in 1989, refurbished in 2000, and rebuilt in the 2010. The plans can be seen that the fundamental change of direction from the indoor space towards the garden, as much as, takes me to install the shower, belonging to the main suite in the garden, separated from the outside only by a partition of transparent glass.

The kitchen is the centre of the house, a kitchen where you can do everything, cooking, eating, working and sleeping space for everything and used by everyone, those who lived in the house and guests.The living room, along with the adjoining terraces becomes a great place to share when they are many, or enjoy at cold weather times by using the fireplace, or in warmer times, opens to the outside garden.
The bedroom-suite is generous in closets, gym, cleaning, studying, sleeping area or room, facing the garden, in the face of nature, which is pretty good, always. The cinema room, soundproofed and with a large screen and 7.1 sound, it is difficult to get out of it if you are keen to the Seventh Art.

The garden with its fountain and artistic benches covered with Trencadís style Gaudí's beautiful. It is a functional and beautiful habitat where you can appreciate the high quality of life achieved through an exhaustive study of every square inch of this unique home.
contacto
ll@lolalagointeriores.com
First service of "democratic interior design" on the Internet to solve
distribution of interior space
in homes or workplaces. The interior designer Lola Lago has set up the web www.interioresparatodos.com The idea is customers' e-mails the plan of their offices or homes and completes a questionnaire about their needs and objectives. Lago, responds with a partial reform from 90 euros and from 140 euros for a TOTAL reform. The solution is not generic but customized including a detailed report on the reason why her proposals.
www.interioresparatodos.com
© 2011 lola lago interiores